DATES TO REMEMBER
Friday 16 April: End of term assembly 1:45pm
Bake sale: 3pm (see below)
TERM 2 COMMENCES Monday 3 MAY
END OF TERM ASSEMBLY: Yrs 2-8
This Friday, 16 April, 1.45pm, Community Hall
You are warmly invited to join us for our end-of-term assembly. We will be sharing highlights from our Year 4-8 camps earlier in the year, as well as celebrating the achievements of our students at recent swimming sports with certificates for HDS Age Group Champions, EWCS and WFPS Place getters. We will also be introducing the House Captains and Student Councillors for 2021.
See you there!
A note from Mr McLeod: Certificates from our school swimming sports (Y4-8) will be sent home over the next couple of days. Thank you once again to Deahnn Riley for completing these for us.
********
View from the Top…
The Term 1 teaching break has come around very quickly and, for some of our students, just in the nick of time. The busy term has been packed with school camps, summer sports, swimming and a bit of learning thrown into the mix. Our students are pretty tired and we wish you all a safe, restful and relaxing break.
Road Safety
We have been contacted by concerned parents and roading engineers about the behaviour of some of our students on the way home. Some have been seen weaving all over the road and path on their bikes in a dangerous manner. Other pedestrians are leaning over the Osborne Road Bridge and sticking their heads through the railings. The last thing we want is an accident so please encourage your children to walk and ride safely. Safety applies in our busy car parking areas too. Seat belts and safety seats are to be used where legally required. We know how hectic drop offs and pick-ups are – please make sure you do your part in ensuring safety for all.
Internet Worries
Some parents have contacted us about how best to manage internet use by their children in the holidays. There are no hard and fast rules about how much is too much. Parents are the best judges of that. Our Cyber Safety advisor John Parsons reminds us that it is OK to be a parent. You can limit internet use and have every right (and obligation) to check devices and look at browser history. Children will make mistakes. Apply your family values in a supportive and encouraging way so that when they happen some learning can be taken from them.
******
A message from Masterpiece Photography
School photo day is scheduled for Thursday 20th May
We have chosen to go online this year, there will be NO envelopes sent home.
ORDERS OPEN: THURSDAY 15th April
PORTRAIT ORDERS CLOSE: WEDNESDAY 19TH MAY, MIDDAY.

You cannot order any portraits after WEDNESDAY 19TH MAY. NO EXCEPTIONS.

Portrait orders cannot be taken on photo day due to the online ordering system. However, class photos will still be available to purchase.
If you would like to order a class photo, or a portrait of your child/ren, please click on the following link:
masterpiece.queensberryworkspace.com/hdps
If you have any queries on how to use the website, please contact Masterpiece Photography directly on 823 4306 or masterpiecephotos@gmail.com
Please do not contact the school directly.
Remember to get your order in before Wednesday 19th May or there will be no portrait/s of your child/ren taken!
Kind regards
The team at Masterpiece photography
*******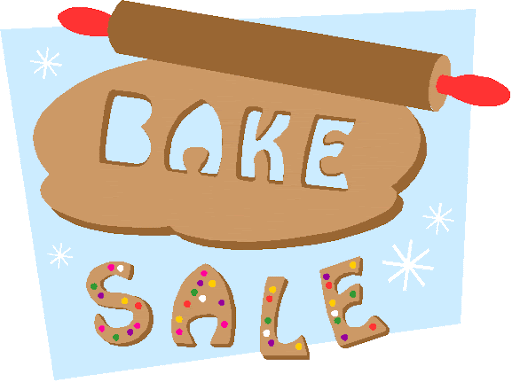 Bake Sale Fundraiser for children in Waikato Hospital
My name is Ariella Schutte, and I am doing the year 8 William Pike Challenge. For my community service I want to make activity packs for the children in Waikato Hospital.
To do that, I need to make some money to buy resources to help make my activity packets.
To raise the money I am going to sell creative and unique sweet treats, baked goods, and lollies, for between $2 - $3 dollars each. I will be selling these at the front gate of the school at 3:00pm on Friday 16th April. I would really appreciate all the support I can get.
Many thanks,
Ariella Schutte.
*******
URGENTLY NEEDED!!
Accommodation for two very responsible young adults. Both working and at University. Looking for a bedsit or 1/2 bedroom accommodation in the Hamilton area Short or long term. Please contact Lisa De Vargas in the first instance via lisad@horshamdowns.school.nz.
*******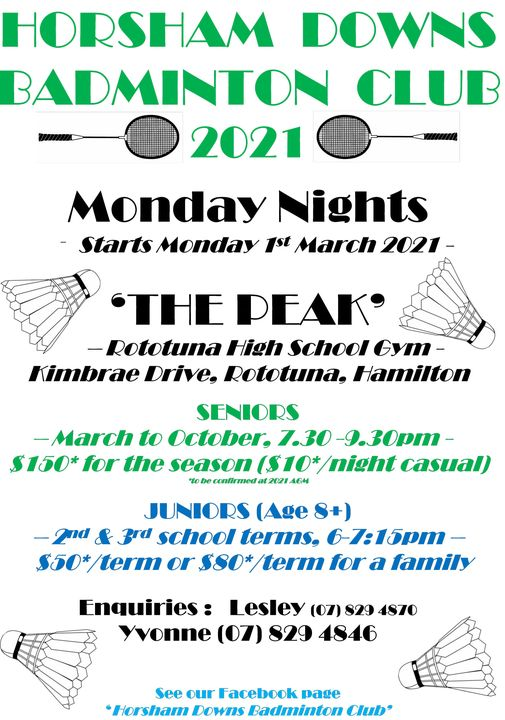 *******
MINIS 2 MOOLOOS
TWO HOLIDAY PROGRAMMES AVAILABLE
GET IN QUICK LIMITED NUMBERS......
Option 1: Te Awamutu: Albert Park
Tuesday 27th and Wednesday 28th April 8.30am to 3.30pm
Option 2: Hamilton: Willoughby Park & FMG Stadium Waikato
Thursday 29th and Friday 30th April 8.30am to 3.30pm
Age groups 5-7, 8-10, 11-13 (Girls & Boys)
Prices $75 per day p/p, $60 for additional siblings
Fun rugby games and skills.
Facilitated by WRU coaching staff.
Focusing on fundamental movement and rugby skills.
Each participant receives a Waikato goodie pack.
Note: Participating players need to bring their own lunch/drink, MOUTH GUARDS and any protective gear.
Link to Register: Click Here To Register
******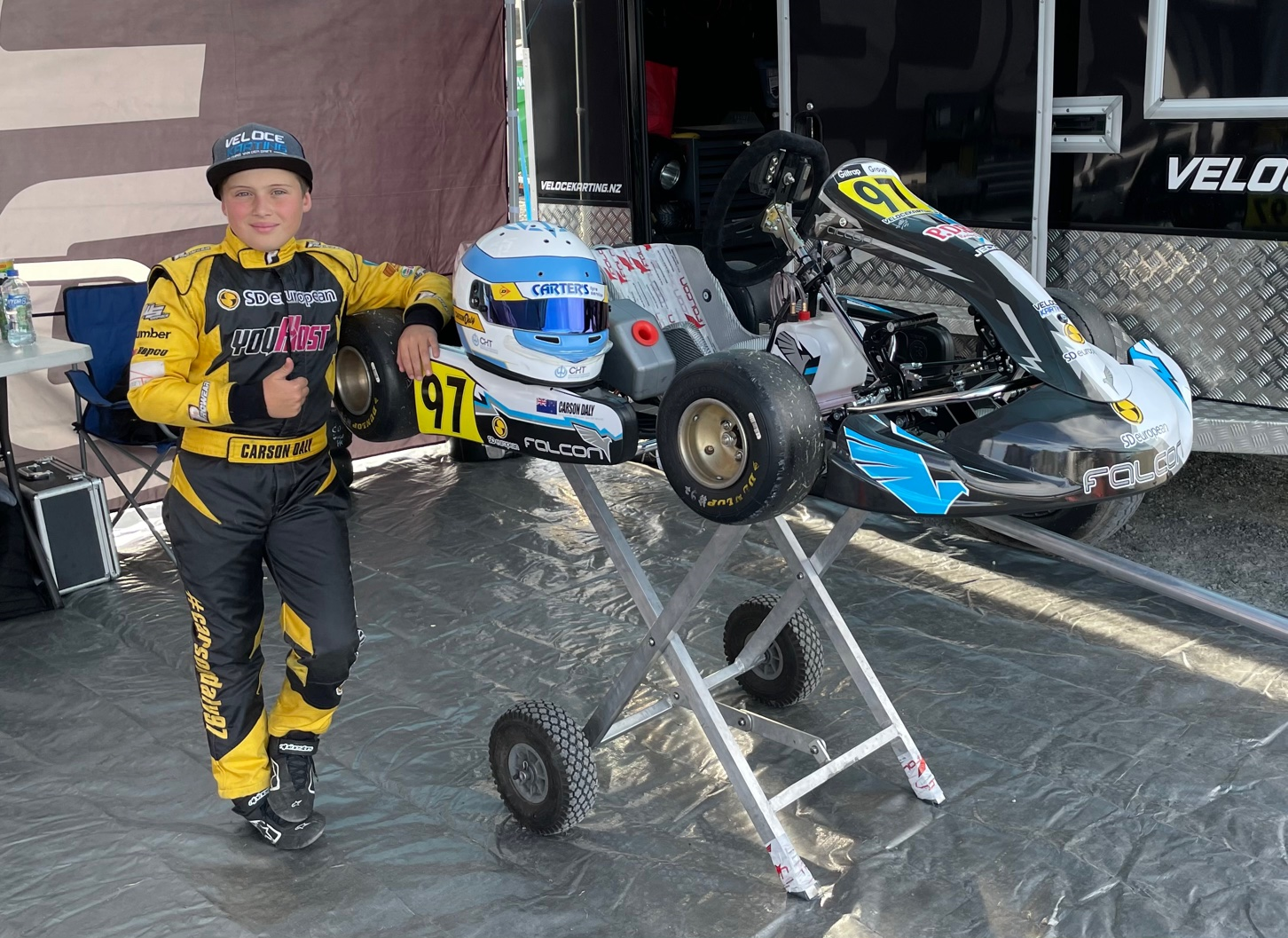 Carson Daly in Yr7, competed In the Karting 2021 National Sprint Championship meeting at the KartSport Canterbury club's over the Easter weekend. He was racing in the Vortex Mini ROK class for 10-13yr olds, which has 20 competitors from all around NZ. Carson was representing the Hamilton based Veloce Karting team in this class.