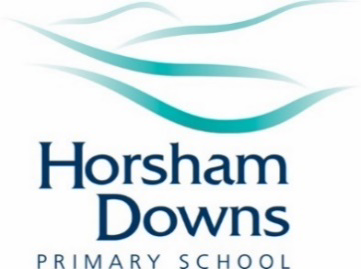 BOARD OF TRUSTEES UPDATE
Term 1, February 2021
Kia ora koutou Horsham Downs School (HDS) Students, Staff, Parents, Caregivers and Whānau,

We hope you all had a refreshing and restful summer break in the sunshine, and that all of our wonderful Horsham Downs Learners are ready for yet another exciting and busy year.

A special welcome to all new families and students, and also to our new teacher, Mrs Christine Jones. We hope you all love your time at Horsham Downs School.
Board News

A big thank you to Sue McConnochie for her years of service to the HDS Board of Trustees. Sue's contributions to the Board and wider school will be missed, and we wish her well in her future endeavours.

As a result of Sue leaving, a casual vacancy has occurred on the school Board for an elected parent representative. The Board has decided to fill the vacancy by selection. If, before 18th March, 10% or more eligible voters on the school roll ask the Board to hold a by-election to fill the vacancy, then a by-election will be held. Request for a by-election should be sent by Thursday 18th March 2021 to: Rob Dol (Chair), Horsham Downs School Board, c/- Carolyn Akerboom (Board Secretary) at admin@horshamdowns.school.nz

If you think you may have any interest at all in becoming a Board Member, please feel free to approach our Principal Steve Dunsmore, our staff Trustee Lisa de Vargas, or you can enquire with any of our current Parent Representatives – Rob Dol, Andy McOnie, Stacy Mahon or Justine Steele.

Should any parent, caregiver or whānau wish to attend a Board meeting at any stage then you are welcome to do so. Please notify Carolyn Akerboom, the Board secretary on 07 828 4700 (or email as above) – and also advise if you wish for speaking rights.
School Developments

As has been previously mentioned many times now, the Ministry of Education (MOE) have acquired land adjacent to our site on behalf of HDS. This will allow an extension to our sports fields, give us room to build new, much-needed teaching spaces, and free up land to address the wastewater issues that we have been managing over the last few years. The MOE had previously advised the Board that HDS would be provided with three new prefabricated classrooms by now, but still consider ours a "complex case" with several issues to take into consideration, and progress has been frustratingly slow. However, the land has now been "designated for education purposes" which is great news. Steve and the Board are doing everything possible to keep things moving along, but we are all disappointed that expected projects have been delayed, and hope that this year sees completion of some promised developments.

After a lot of hoop-jumping, a cover over the Astro/Tiger turf is imminent and we are hopeful that we will see a start to this during the first school holidays of the year. This will be a very precious asset to our school and it will be widely used - our winter sports and PE programmes will be much more accessible.
Parent Association

Hugest of thanks to the PA for organising yet another superb Twilight Gala. These are always wonderful evenings – a great chance to network with staff and other parents/caregivers, and let the kids have a merry old time together. Great to have the sun shining too! This is an important fundraiser for us, so we thank you all for your support.

Some PA funds were put toward a large pool shade which has now been installed to give maximum shade over the pool seating area inside the fence, and an additional shade outside the fence. These have been very useful during class swimming times, and we have had very positive feedback already. The main aim was to have sun protection for spectators and the children watching – not to cover the actual pool and block out the sun, which makes the pool warmer and extends our school swimming period.

We would like to reiterate that we are very grateful for all PA funds raised during the variety of events held throughout the school year. We have an ongoing and evolving 'wishlist' to continually improve our amazing school, thanks to our school community's support. Should anyone like to join the PA, or even help out with school events/fundraising in any capacity at all (even an hour of your time is appreciated), then please contact the PA Teacher Representative, Ashley Freeman at ashleyf@horshamdowns.school.nz
ERO (Education Review Office)

ERO have changed their methodology and are now consulting with all schools over a longer period of time. They are taking an 'evaluation approach' whereby they are interested in 'start to end' thinking. We had two visits at the end of 2020, with another booked for March.
Communication

The Board would like to encourage everyone in the school community (whānau, caregivers and parents) to read all correspondence from the school. We understand that there is a lot of information, that people are busy, and that there are many forums. However, the primary source of information is the school newsletter link that Raewyn emails out which connects you to the school's website. Please open up the lines of communication with teachers – all are accessible on email, and face-to-face appointments are welcome also.
Beautifying Our School

We are on the lookout for some local resident artists and others to assist/support us in making our school even more attractive and aesthetically pleasing. If you are creative, or know of anyone who may be able to help in this regard, then please contact our Board Staff Trustee Lisa de Vargas at lisad@horshamdowns.school.nz We are also open to suggestions/ideas from our school community.
Conclusion

Horsham Downs School's Motto is "….building pathways for success" and our Vision is "Learners aspiring, growing & succeeding". The Board will continue to support all school staff and the Leadership team to ensure that everyone is working towards the same goal – for every child at Horsham Downs School to have the highest possible level of education.

The Board would like to wish all our students and their families the best for 2021. Please continue to be kind to one another, care for our children, and stay safe and healthy.
Justine Steele - on behalf of Horsham Downs School Board of Trustees