DATES TO REMEMBER
24 - 28 February Yr 1-3 2Focus Swimming Lessons
26/27 February Rm 6 Camp Pirongia
27/28 February Rm 5 Camp Pirongia
26-28 February Yr 5/6 Camp Raglan
28 February Tima Tahi Assembly
TABLOID SPORTS
This Friday, 21 February is our annual tabloid sports. This is a fun programme organised by the Year 7/8 students for the rest of the school and is an opportunity for our senior students to develop leadership skills. This is quite a challenge for some of our student leaders so this is not an event we invite parent spectators to attend.
All students are asked to wear their SCHOOL SPORTS UNIFORM and HAT, and to bring a drink bottle.
If students need uniform items, please see the school office before Friday 21st.
_________________________________________________
Please note we have a new school bank account number
Just a reminder that we changed school bank account numbers at the end of last year. Please update any automatic payment or direct credit details so any future payments go to this new account.
ASB Bank – Horsham Downs School Board of Trustees:
12-3171-0027156-00
The old Westpac account that was used last year is now CLOSED. Please ensure your banking details have been updated .
Thank you
Carolyn Akerboom, Office Administrator
_____________________________________________
WINTER UNIFORM
Winter may seem a long way off but, if you want to order our winter uniform items, the orders need to be submitted shortly. The delivery time is around 8-10 weeks which brings us up to the beginning of term 2. Information and ordering details may be found via the link below.
UNIFORM ORDER - Winter 2020 (1).docx
____________________________________________
PARENTS ASSOCIATION AGM:
The Annual General Meeting of the PA will be held in March. If you are interested in finding out more about what we do or joining our amazing team please come along.
When: Tuesday, 3rd March 2020 @ 7pm
Where: Horsham Downs School Staffroom, Horsham Down
_____________________________________________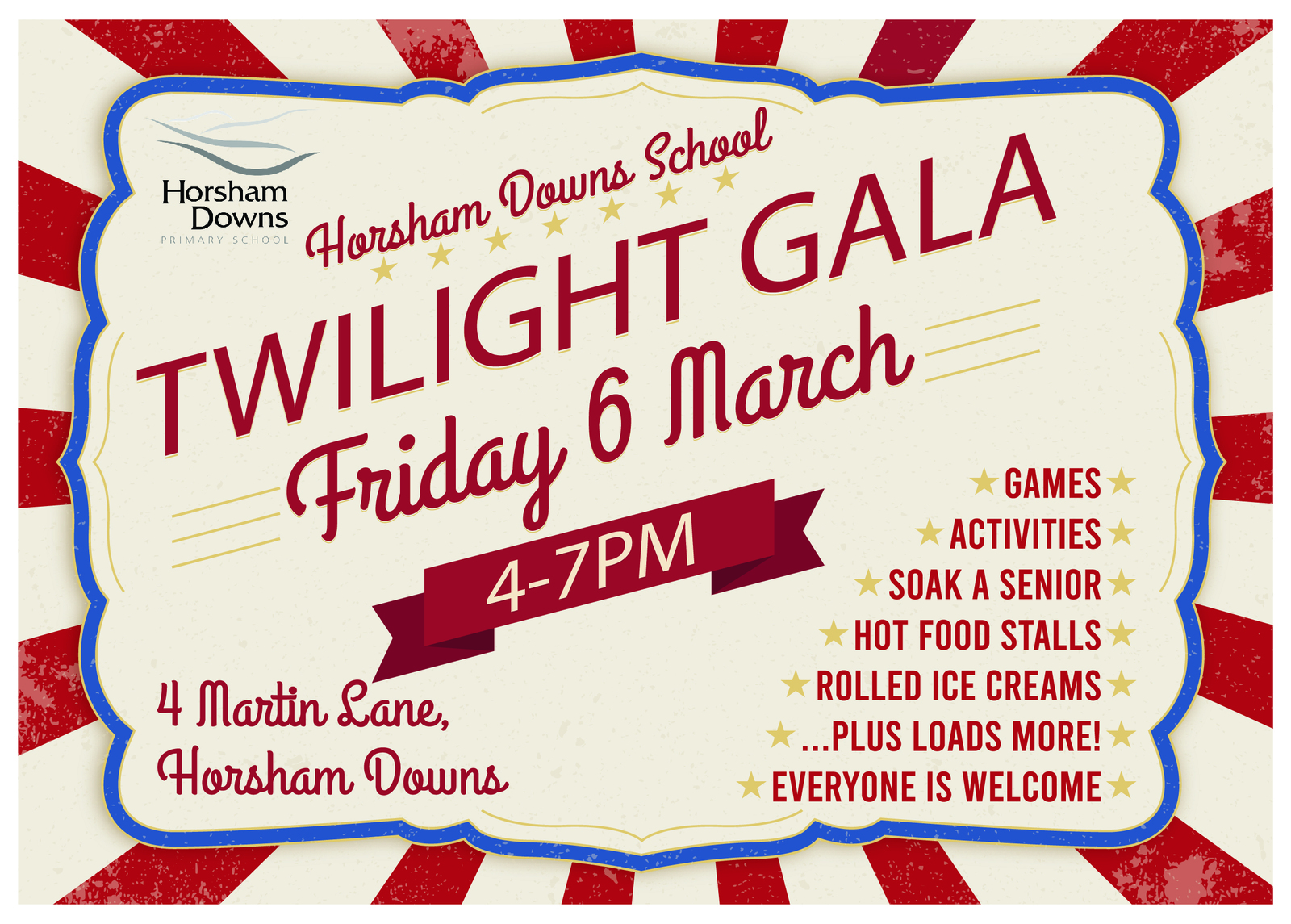 A wrist band will give access to all the activities listed. Some activities can only be done once, (* mark), others have no limit. Some simple rules:
Children will have to queue for each activity each time
Bouncy castles will be restricted to 5 minute rotations and will have age limits. Those supervising are to be listened to or bands may be removed from the individuals.
Children can elect to do individual activities with tickets or gold coin donation
Toddlers only (and supervising adults) in the toddler area.
'Band' activities include…
Crazy Hair * (H) * Fish for a drink *(F)
Gumboot throw * Dance Off
Mini golf * Flying Fox
Bouncy castles * Toddler play area Soak a senior
Prices for Activity Band
One band $10 Two Bands $15 Three Bands $20 then $5 each
BUYING BANDS
Available Friday (6th) morning 8.30am – 9am: [Cash only] limited change
Then from 2:30pm (Cash only) and EFTPOS from 4pm on Friday afternoon
(cash and EFTPOS, cash out and tickets available)
Bring Cash for - cash or tickets accepted
Kebabs The chance to "dunk" the principal
BBQ Ice Creams Best value book store
Pizza Candy store American Hot Dogs
Gluten Free Nachos Cupcakes
______________________________________________________