DATES TO REMEMBER
3 June School Cross Country - 1.00pm
4 June Teacher Only Day - School Closed - (See note below)
7 June Queens Birthday - School Closed
*******
Teacher Only Day 4 June - School Closed
A reminder that our staff are joining 25 other schools for a teacher only day on 4 June which has been put together by our local Community of Learning, Te Pae Here. Around 650 teachers will be introduced to a learning resource designed to help us learn more about our local North Hamilton geography and history, together with Ngaati Wairere.
School will be closed for the day and YMCA will not be available.
Please click on the link below if you would be interested in a YMCA programme that could possibly be run at Woodstock School on the 4th June.
1 day programme on the 4th June to cover the Teachers Only Day. We have chosen Woodstock with it being near the centre of the area for the schools on a Teacher Only Day. All answers will be returned to the YMCA.



********
Enrolments at Horsham Downs School Term 3, 2021.
Enrolment at Horsham Downs School is governed by an enrolment scheme, details of which are available from the school office or on our web-site.
Applications for out of zone places are now being invited for those students who will become eligible for enrolment during the period 26 July 2021 to 01 October 2021 (Term 3). If you have not already submitted an enrolment form, please ensure that your on-line application for enrolment is completed through our school website. Completion of this enrolment form is sufficient for your application to be considered.
The Board of Trustees has identified up to 5 spaces in Y5, and up to 5 spaces in Y7, for Term 3, 2021.
The deadline for receipt of applications for out of zone places is Friday 18 June 2021. If a ballot for out of zone places is required, it will be held on Monday 21 June 2021. Parents who have applied for enrolment will be informed of the outcome of the ballot within three school days of the ballot being held.
If you live in the school zone, or outside of it, and have not yet signalled your intention to enrol your child in the next 12 months, please contact the school immediately to assist us to plan appropriately.
********
SCHOOL CROSS COUNTRY
Thursday 3rd JUNE
Our annual cross-country event is coming up this Thursday 3rd June. (The course is similar to previous years, using both the school grounds and the adjacent farm). The course will be well marked out. Marshalls will be required and placed throughout the course. Please indicate by email (danem@horshamdowns.school.nz) as soon as possible if you can help marshal on the day.
Children (5-8 year olds) will run in their age group as of the date of the School Cross Country. Eastern Waikato Cross Country is now scheduled for the 9th June, and children aged 9-13yr will be running as of their age on June 9th. The team for this will be selected after the results have been gathered for the School Cross Country. Top 5 for each age group 9 years and older will automatically be selected. More information regarding this event will follow and information will be given on Tuesday 8th June.
Normal School Programme:
9:00 am Block 1
10:30am Morning Tea
11.00am Block 2
11:45pm Lunch
School Cross Country Timetable (approximate times)
If the weather is wet or cold, the timetable may be adjusted. Times are just approximate.
12:20pm Bell
12:25pm Children seated in watching area (Between Rooms 2/3/4 and the Goalposts) (Not Rooms 15/16,1,2 & 4)
12:40pm 10 year old Boys and Girls
12:55pm 11 year old Boys and Girls
1:10pm 8 year old Boys and Girls
1:25pm 9 year old Boys and Girls
1:40pm 6 year old Boys and Girls
1:55pm 7 year old Boys and Girls
2:10pm 5 year old Boys and Girls
2:25pm 12 & 13 year old boys and girls
2:40pm Final announcements/Prizegiving (weather/time dependent, this may done during school assembly at a later date)
3:00pm Home
Your child will need to bring on the day:
· Shoes – all students must run in shoes (compulsory).
· FULL School Sports Uniform including shorts
· Any relevant medication eg. Asthma inhaler. Please label this clearly.
There will be a supporters area and parents are welcome and encouraged to come and cheer for their children. We respectfully request that parents remain in the spectator area to enable the event to run smoothly.
An expectation is that all parents will stay for all races before taking children home. It is a school event and support is needed for all children.
Yours sincerely
Dane McLeod.
Sports Co-ordinator
*********************
Bake Sale Fundraiser for children in Waikato Hospital
- After Cross Country on Thursday
Hello, my name is Ariella Schutte. I would like to thank everyone who supported my first bake sale which was to raise money to make activity packs for children in Waikato Hospital. I sold out in less than 15 minutes!
My next bake sale as part of my William Pike Challenge will be held on Thursday 3rd June at the end of the day after cross country at the front of the school. I will be selling baked goods and other sweet treats all $2 each. I would appreciate all the support I can get.
Thanks
Ariella Schutte.
******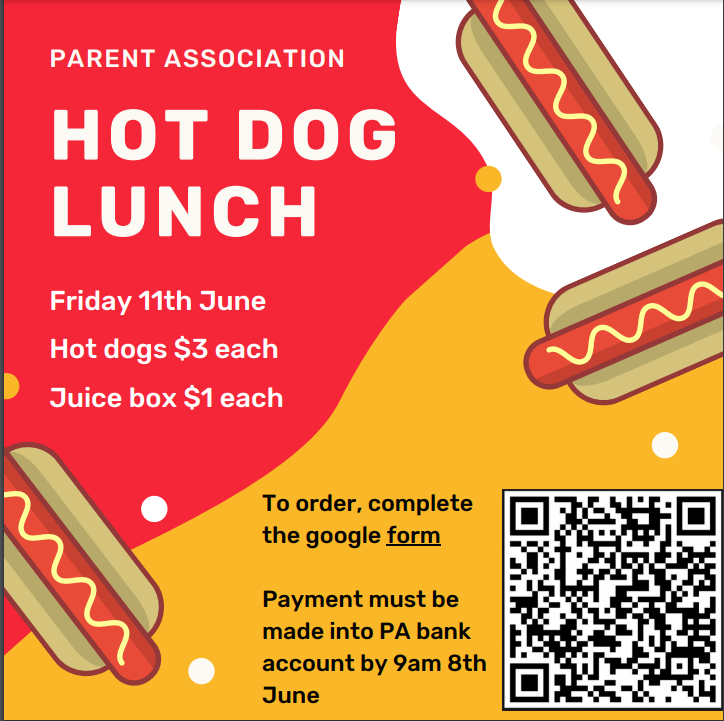 Please click on the link below to order your Hot Dogs
*******

Coming to Horsham Downs School on Wednesday 16 June...
As part of our book week (Week 7), the team from Perform Education is coming back with a brand new educational musical to celebrate the best New Zealand children's books of 2021. This heartfelt and inspiring live-in-school production looks at different episodes in each character's journey where they learn not to be discouraged by negative messages in order to follow their heart's desire. Filled with humour, suspense and featuring student interaction throughout, this educational musical adventure encourages your students to pursue their ambitions. If you're going to dream, let them be Big Dreams!
The parent contribution towards the cost of this show is $4.50 per child. This will be added to your account unless you advise us otherwise.
********
TO THE
BOOK FAIR
AND BEYOND!
DISCOVER A WHOLE GALAXY OF BOOKS!
This year's Scholastic book fair theme is Space and it's coming to Horsham Downs School from Monday the 14th of June (Week 7 of Term 2).
We will need parent help to make this a success. Please contact Anna Woolston at annaw@horshamdowns.school.nz if you are able to volunteer before school (8:30 - 9 am) or after school (3 - 3:30 pm)

********
Jumpers for Goalposts…?
Our colleagues at Gordonton School have arranged for the Ricki Herbert football coaching academy to take place there on Thursday lunchtimes until the end of the year. The first planned day is Thursday 10th June.
It normally costs $30.00 per term and this term is only $20.00. The opportunity is open to all footy kids 5 – 13yrs.
Parents can book by the term and make payment to Gordonton School who will pass it on to Ricki.
There are still a few spaces left. If any of your children are interested they are welcome to attend. Parents just need to get them here and back on Thursdays between 12:30pm and 1:30pm.
Link to registration form below.
https://docs.google.com/forms/d/1SNdp-TYbhjQiobscaVV54wFO8QI6ekjOdaiP7ycrFvs/prefill
********