Dates to Remember
19 November EWCS Athletics - Porritt Stadium
22 November Tima Toru Sharing Assembly
28 November Tima Rua Athletics
*************************************
It's All About Building Resilience
Over the past 18 months or so we have been focussing our students and wider school community on the broad notion of Resilience.
Resilience looks quite different in a variety of contexts but it has been evident this week through Sports and the Arts. Last Saturday, our school Jump Jam team won the national championships in the 'extreme' section – the highest possible category. Months of hard work, practice and determination overcame moments of self-doubt, nerves and pressure. Every member of the team gave their best efforts and this was rewarded with a win on the night. Even if the team had not been named the overall winners they would have succeeded because they couldn't have worked any harder or tried any better. They 'emptied the tank' right there on the stage.
Similarly, at our senior athletics day on Wednesday the teaching staff reported a spirit of support and effort across the school that has not always been so evident in the past. Some of us are not 'natural athletes' and do not always enjoy demanding sporting challenges. Nevertheless, the senior students (in particular Y7/8) showed significant effort, sportsmanship and support for each other throughout the day.
These are ways that resilience is evident in our school. Students are taking more responsibility for their own efforts and the rewards this brings. They are becoming less reliant on intervention from parents to 'fix things' for them or help them along an easier path. These are life-long lessons for our students and I commend those who willingly accept the challenges of developing resilience in whatever form it takes in our school.
A Note from Mrs Poultney
As we have been exploring RESILIENCE, we have come across some great research and awesome resources.
Did you know that practising GRATITUDE is a really helpful tool to build resilience and overall well-being? Scientific studies have shown that if we focus on the positive, our brain is flooded with positive chemicals which spark brain activity critical to sleep, mood regulation and metabolism. We then learn better, relate better, feel more connected, feel less anxious and are more likely to bounce back when things get tough.
(https://www.awesomeendsin.me/about/the-facts/)
Sometimes it is easier to focus on what goes wrong in our lives, or what we are not good at or what we don't have. And then we feel like we are not good enough, don't have enough, or think that bad things only happen to us.
A resource we have come across that might help to retrain the brain to focus on the positive, are Gratitude Journals, produced by NZ based company, AwesoME Inc.
(https://www.awesomeendsin.me/).
There are journals for kids, teens and adults, and we have a few of the kids' journals to give away.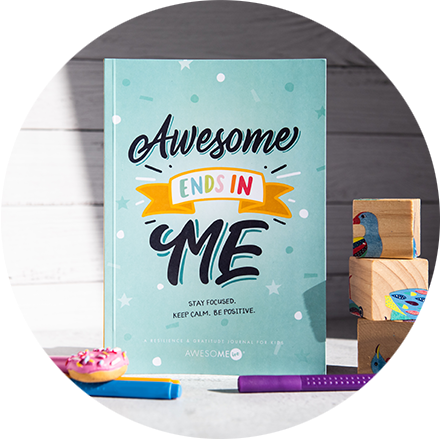 For ages 5-12, the Resilient ME® gratitude journal not only teaches kids how to get the most out of practicing gratitude, but also has heaps of fun activities to help them build resilience and boost happiness, focus on what is important, stay calm when facing challenges and build a positive attitude.
Kids can learn to manage big emotions, create a growth mindset, focus on their strengths, create meaningful connections, and maintain healthy habits to live a happy life.
If you think this would be something helpful for your child, please email me rachelp@horshamdowns.school.nz or pop in to have a look at the copy in the office foyer. While it says ages 5-12, I think that it is more suited from about 7yrs upwards.
*******************************
Congratulations to Edward Dai who has has recently received a pass with distinction (the highest grade) in
TRINITY SPEECH AND DRAMA: INITIAL GRADE
Edward told a traditional Chinese story in English, and recited a poem and did very, very well.
Dianne Yates (speech and drama teacher)
********************************
Swimming Pool Project
Next week Room 7&8 start their 'pool project". We still require some old paint brushes and drop sheets/tarps. If anyone has some that they could borrow for the week could you please email Lisa De Vargas at lisad@horshamdowns.school.nz
Thank you
*********************************
Strawberries
There is a plentiful supply at Fruitdale Orchard. These are picked fresh each day and available for sale in the shop along with fresh vegetables. Fresh fruit ice creams, hot coffee and cold drinks available as well.
Pick your own strawberries available every day but remember to bring you own containers. We are taking orders for Christmas - 23rd and 24th December so order now so you don't miss out.
Fruitdale orchard, 78 Osborne Road. Ph 829 4838.
**********************************